(Click here to access 2014 Paper Registration Form )
What could be better than an invigorating walk or run around beautiful Lake Calhoun on
a Friday evening? A beautiful course with baklava and Greek dancing at the end, of
course! For the 2nd year, Chloe's Fight is partnering with the Taste of Greece, Twin
City's largest celebration of Greek culture. So join us on September 5th and receive
complimentary food/drink tickets to the Taste of Greece.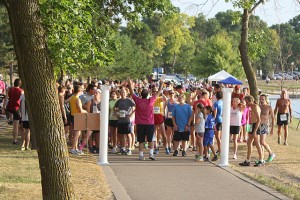 Bring your child early for the Kids Toga Run at 6:45PM (kids toga or laurel will be provided). All
proceeds go to promote local research on childhood rare genetic diseases at the
University of Minnesota.
New This Year
A few highlights…
A Separate 2.5K family walk
Toga Costume Contest
Join a Team or Create a team
Fundraise for Chloe's Fight 5K
Packet Pickup
Wed, Sept. 3rd, 4-8PM, at the Running Room (uptown location)
Pre-race packet, Chloe's Fight 2014 race shirt, and post-race TOG tickets are available for early pickup on Wednesday, September 3 from 4:00 p.m. to 8:00 p.m. at our sponsor store, the Running Room, located at 1433 West Lake Street in Minneapolis and pre-race on Friday, September 5 from 5:00 p.m. to 7:00 p.m. at the race start location, located at the intersection of 36th & Lake Calhoun Parkway.
Race Details
A few more things worth noting
Start Location – All events start by Lake Calhoun at 36th & E. Calhoun Parkway (see map below)
Prices – $30 for individual adult registration pre-race (Sept 4th & sooner), $35 for individual adult registration on day-of, $25 for team registration pre-race, $30 for team registration on day-of, free for kids participating in the kid's toga race.
Timing – The 5K Toga Run is not a timed event – it's a fun run – but a clock will be available on the start & finish line.
Parking - There is street parking in the Lake Calhoun neighborhood and on the parkway around the Lake.
Bag Check - There will not be a bag check at the event, so you will need to arrange for family and friends to hold your personal items while you are racing, as neither Chloe's Fight Rare Disease Foundation nor the Minneapolis Parks and Recreation Board are responsible for any lost or stolen items.
Post Race Snacks – Post-race snacks and water will be available for runners at no-cost. In addition, don't forget you'll have 5 Taste of Greece Food/Drink tickets in your race packet.

Schedule of Events
Don't miss all the new events this year!
Day-of packet pickup & registration at race start, 5-7PM
Greek Themed Photo Booth, 6-7PM
Kids' Pink Chalk Hair Highlighting, 6-7PM
Event Kickoff, 6:30PM
Kid's 1K Toga Run, 6:45PM
Best Toga Costume Contest, 6:55PM
5K Run Start, 7:00PM
2.5K Walk Start, 7:05PM
Announce Winners (at Taste of Greece), 7:45PM
2014 Prizes
Prizes for Top Finishers
5K Prizes for Top 3 Male & Female Finishers:
1st Place – $50 gift card each to the Running Room
2nd Place – $30 gift card each to the Running Room
3rd Place – $20 gift card each to the Running Room
Winner of the Best Toga Costume Contest
$25 gift card to FiveWatt Coffee Shop in S. Minneapolis
Event After-Party
Tickets included in the Race Packets
All adults registered for the 5k toga run or the 2.5k family walk will receive 5 Taste of Greece beer/ food tickets each (a $5 dollar value). And even more tickets if you beat Hermes in the 5K!
After-Party Location: 34th & Irving Ave S. Minneapolis (just up the hill from the race start)
Click here to find out more about the food & beverages offered at the Taste of Greece, Twin City's largest celebration of Greek culture!